Expert Advice
3 Ways to Boost Your Protein Shake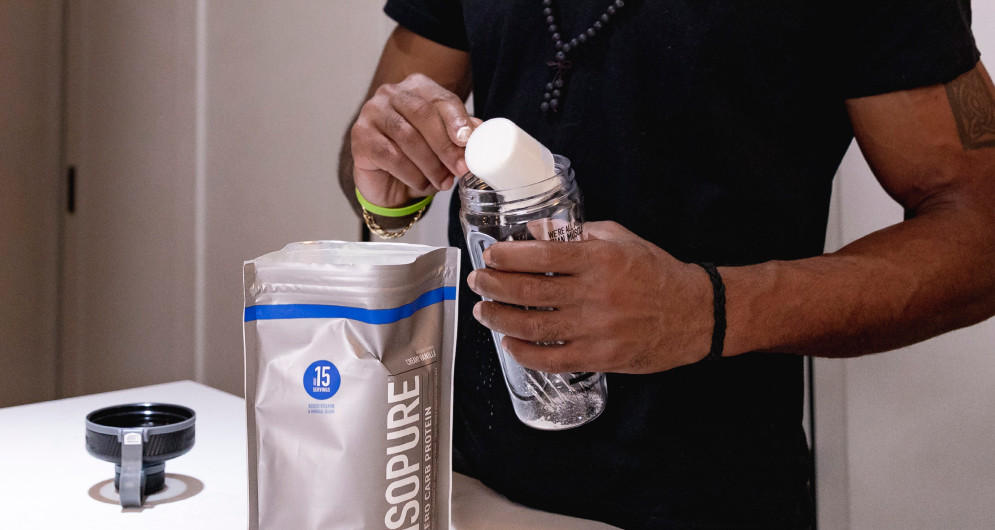 Proteins powders have moved beyond the gym and the world of fitness and into the kitchen and the realm of healthy living. You can easily boost your smoothie within minutes, and whether you're looking to manage your weight, supplement your diet, build muscle, or just eat better, all you need is a blender and a few of your favorite ingredients to craft the perfect-for-you protein shake. Let's take a look at the power of protein powder!
Tip 1 | Change the Base
Protein shakes are most often made with water; however, protein powders can be mixed into virtually any liquid or semi-liquid you enjoy. In turn, amplifying the taste, texture, and nutritional value of your pre-workout shake or smoothie can boost the experience immensely. Add a complete protein such as milk or soy milk to create a more rich, creamy consistency. Add nut milks such as almond or coconut milk to create a nuttier flavor with a smoother texture. Thicken it with a semi-liquid like yogurt or kefir to create a thicker, creamier, more decadent, dessert-like milkshake. All of these bases will also boost the protein and calcium in your protein shake.
Tip 2 | Blend in Whole Foods
Blend up your favorite flavor of ISOPURE Zero Low Carb powder with whole foods. Sweeten up your shake with fresh or frozen fruits such as strawberries, raspberries, blueberries, or bananas. Sneak in some greens with vegetables like spinach or kale. As described above, you can increase the protein content with yogurt or milk. Get an extra nutritional boost of healthy fats by adding in peanut butter, almond butter, avocado, chia, or flax seed. Scoop in some whole oats to get some complex carbohydrates as well as a bit of fiber. Want to keep building it up? Then top it off with some honey or cinnamon. Don't forget to finish with ice to make a frosty cold smoothie, and add your supplements for a hard-hitting, vitamin-packed powerhouse! Healthy fruits, vegetables, and fats in your smoothie plus ISOPURE Zero Low Carb powder can blend to make a delicious treat.
Tip 3 | Personalize It
Customize your protein shake by adding in other supplements and ISOPURE products as desired. There are countless combinations to use that will elevate your smoothie from ordinary to ISOxtrordinary! For example, you may stack protein powder with supplements such as creatine or collagen. You may even create a blended protein by combining complete proteins such as casein or plant-based proteins. How you stack your protein powders can vary by time of day and your routine may change around your chosen activities. Find what works best for you and your goals.
Use ISOPURE Zero Low Carb powders and explore new ways to enhance your day-to-day nutrition. Above all, embark on your own culinary adventures! When you're successful, be sure to post your recipe and tag us with #eatisopure. https://www.theisopurecompany.com/en-us/recipes