Diets
5 HIGH-POWERED PROTEIN POWDER SNACK RECIPES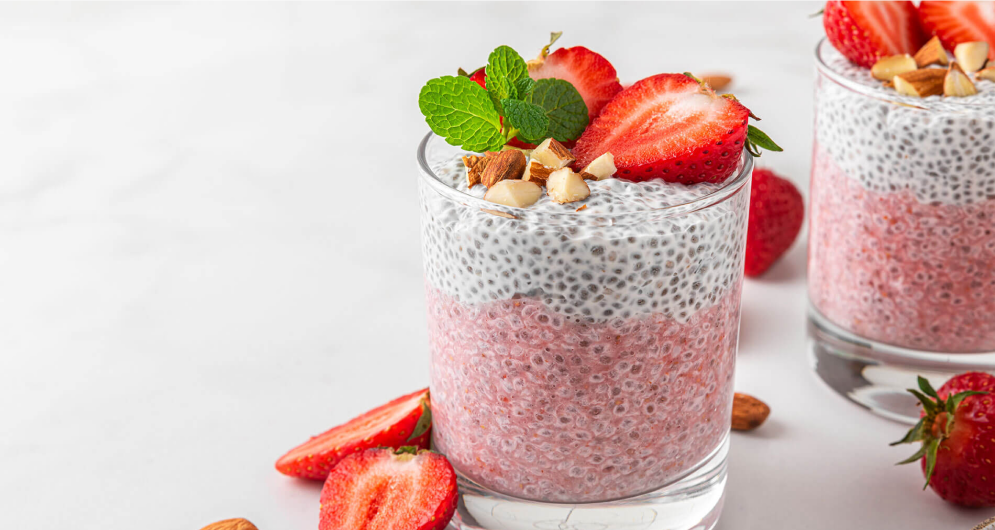 If you're like most people, you might think of protein powder primarily as an ingredient for shakes or smoothies. Those are certainly two of the most convenient ways to get your protein fix after workouts or when you're on the go. But protein powder can also be a great way to add a punch of flavor and nutrients to snacks while supporting your fitness goals. With wholesome ingredients like fruit, seeds, and nut butters, protein powder snacks can be a tasty and filling option to help you fuel up before a workout or recover afterwards—or even if you're just looking for something to reach for during the workday or after dinner.
"Our typical snacks are high in carbohydrates and generally contain little protein," explains Anya Rosen, M.S., R.D, C.P.T., a registered dietitian and trainer in New York City. "Including protein and a little fat in a snack can help support satiety, helping to keep you full until your next meal."
Moreover, if you're trying to keep your daily protein intake high in order to help support muscle building* and recovery, adding protein powder to your snacks in between meals will help take off some of that pressure to hit high numbers of the muscle-building* nutrient at mealtimes, Rosen says.
*when taken over time with regular resistance training
When choosing a protein powder to incorporate into your snacks (or in general), Rosen recommends looking for the one that best suits your lifestyle; be sure to read the ingredients list and pick which protein source best suits your dietary preferences.
"Whey and casein are good options if you tolerate dairy well," she says. "If you prefer a dairy-free diet, then go for a plant-based blend."
Below are six protein-powered snack recipes, courtesy of Rosen, to help you power through your day, stay satiated between meals, and make steady progress towards your fitness goals.
5 DIETICIAN-APPROVED PROTEIN POWDER SNACK RECIPES
1. CHOCOLATE PEANUT BUTTER OATS
Satisfy your sweet tooth with this easy snack hack.
Serves: 1
INGREDIENTS
● ½ cup quick oats (dry)
● ¾ cup unsweetened almond milk
● 1 scoop chocolate protein powder
● 1 tbsp cocoa powder
● 1 handful of chocolate chips
● 1 tablespoon peanut butter
DIRECTIONS
1. Mix oats with almond milk and microwave for 3 minutes, stirring once halfway through.
2. Stir protein and cocoa powder into cooked oats and let sit for a few minutes.
3. Top with chocolate chips and peanut butter.
2. BERRY CHIA PUDDING
Make snack time a breeze by prepping this the night before.
Serves: 2
INGREDIENTS
● 4 tbsp chia seeds
● 1 cup unsweetened plant milk
● 1 scoop vanilla protein powder
● 1 cup frozen berries
● ½ cup slivered almonds
● Stevia to taste (optional)
DIRECTIONS
1. Mix chia seeds, almond milk, protein powder, berries, and stevia in a jar.
2. Allow the mixture to sit overnight, stirring once if possible.
3. When ready to eat, top with berries and almonds.

3. ZUCCHINI PROTEIN MUFFINS
These delicious treats are a sneaky source of veggies and protein.
Serves: 8
INGREDIENTS
● 2 cups rolled oats
● 2 scoops vanilla protein powder
● 8 pitted dates
● ½ cup olive oil
● ¼ cup maple syrup
● 1½ cups freshly grated zucchini
● 2 large eggs
● 1 tsp baking soda
● Pinch each of salt, cinnamon, and/or nutmeg
DIRECTIONS
1. Preheat the oven to 350F and grease a muffin pan with cooking spray.
2. Place all ingredients into a blender; mix until the batter is slightly chunky.
3. Pour batter into the greased muffin pan and bake for 15–20 minutes.
4. Serve warm or refrigerate and enjoy later.

4. COCONUT PROTEIN BALLS
These no-bake balls are great to have on hand for a quick grab-and-go snack.
Serves: 10
INGREDIENTS
● 1 scoop chocolate protein powder
● 4 tbsp almond butter
● 2 tsp chia seeds
● 4 pitted dates
● ¼ cup unsweetened shredded coconut flakes
DIRECTIONS
1. Add all ingredients except coconut to a food processor; blend until thoroughly mixed.
2. Roll batter into 10 balls and coat each one in shredded coconut.
3. Chill in the refrigerator for about 20 minutes before serving.

5. BANANA PROTEIN WAFFLES
This balanced twist on a breakfast classic makes for a great afternoon snack.
Serves: 2
INGREDIENTS
● 2 eggs
● 1 banana
● 2 scoops vanilla protein powder
● ½ cup unsweetened almond milk
● ½ cup oat flour (or freshly ground oats)
● ½ tsp each of baking soda and cinnamon
● ½ tsp vanilla extract
DIRECTIONS
1. Heat waffle iron and spray with coconut oil.
2. Mix ingredients together in a blender or food processor.
3. Pour batter into waffle iron and cook until golden brown.
4. Enjoy with fresh berries, nut butter, and/or a drizzle of maple syrup.