Workout Tips
10 HIKING BAG ESSENTIALS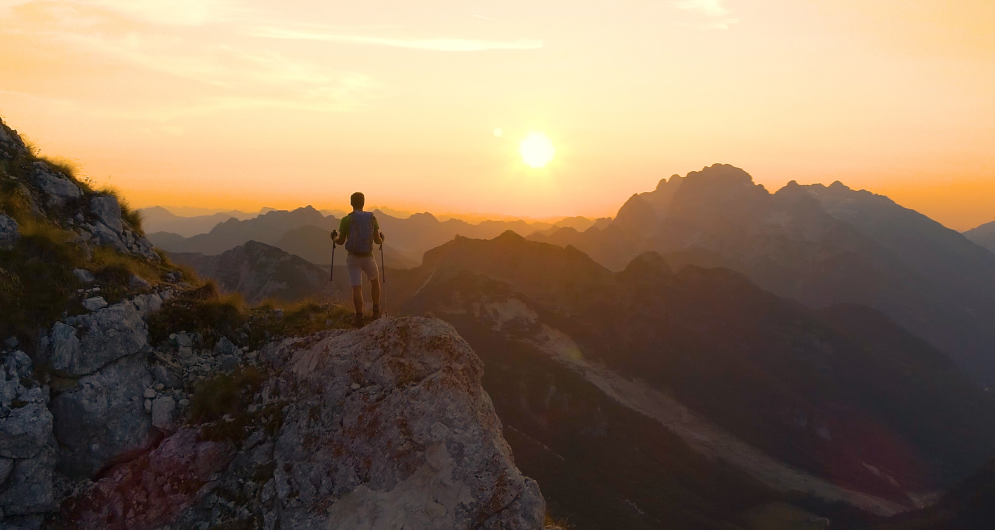 Hiking can be a great full-body workout. However, unlike slogging through sets in the weight room, trekking into the great outdoors requires careful foresight and, in most cases, some essential activity-specific gear.
"It's important to pack properly before any hiking trip," says Bob Galinski, Jr., a personal trainer and ultra runner who does much of his cardio work in the Adirondacks. And some pieces of gear, Galinski says, are simply non-negotiable.
In addition to the equipment that will enhance your hike, like trekking poles and quality sunglasses, you don't want to forget the basic essentials, Galinski says, "like protection from the elements, a reliable way to stay hydrated, and of course contingencies in case circumstances should take an unexpected turn."
From the best gear to bring along for your next adventure to the ultimate hiking bag to pack it all into, read on for your expert-approved hiking essentials shortlist.
1. ALPTREK 55+10 LITER BACKPACK
Salewa
First of all, your gear has to go somewhere. Made with abrasion-resistant nylon and an ultra-ergonomic carrying system, this 55-liter backpack was built to go the distance. It's also ideal for thru-hiking and longer treks; the detachable lid compartment serves as a (smaller) separate bag at a moment's notice. There's plenty of room inside and out for trekking poles, your hydration system of choice, and any other gear or nutrition you might need on the trail. In short, it's a built-to-last backpack that's ready for the long haul.
$239, salewa.com
2. TRAIL ERGO CORK TREKKING POLES
Black Diamond
When the terrain gets dicey, you'll want some quality hiking poles at the ready to steady your steps, and these ones feature a natural cork grip on their 7075 aluminum shafts. Collapsible down to 27 inches via Black Diamond's FlickLock adjusters, they have a usable length of 39 to 55 inches, and the four-season flex tips are easy to swap out as necessary. They're also easy to snatch and stow, so you're ready to go should it rain, sleet, or snow.
$139, blackdiamondequipment.com
3. BONATTI WATERPROOF JACKET
Salomon
Weather is always unpredictable above the alpine line, but you'll want a lightweight rain jacket in your backpack no matter where the trail takes you. At just 5.3 ounces, the barely-there Bonatti Waterproof Jacket is as minimal as it is practical, with 10K/10K waterproof fabric and front-to-back ventilation to keep your core dry. Available in a variety of earthy colors (and different sizing for men and women), this jacket will help you face any storm Mother Nature can hurl at you, head on.
$180, salomon.com
4. BEFREE 1.0 L WATER FILTER BOTTLE
Katadyn
When you're out in the middle of nowhere, you're unlikely to find a faucet—or perhaps even water you can trust at face value. This collapsible one-liter water bottle has a built-in 0.1 micron microfilter to help protect your gut against harmful organisms, removing protozoa (99.99%) and bacteria (99.9999%) according to EPA standards. The bottle's extra-wide 43mm mouth is easy to fill from any nearby lake, river, or stream, and the filter itself has a lifespan of roughly 1,000 liters. When it comes to mapping out your hydration when you're on the move, there's no such thing as being overprepared.
$50, rei.com
5. MOUNTAIN BACKPACKER MEDICAL KIT
Adventure Medical Kits
Speaking of being prepared, no hiking bag is complete without a medical kit, and this one brings you all the basics in a tidy, easy-to-access package. Designed with four days' worth of treatment for two human adventurers, this lightweight kit has everything you need to manage bug bites, bruises, fevers, allergies, and other common complaints for the average hiker. The hospital-quality bandages can help patch you up if you take a tumble, and even if you're inexperienced in the field, there's a first aid guide inside to help. Safety first!
$47, adventuremedicalkits.com
6. WAYFARER SUNGLASSES
Ray-Ban
You don't want to underestimate the importance of visibility on the trail, especially when a single misstep could send your day in a whole different direction. When the sun is shining, you can rely on this classic. Ray-Ban's Wayfarer sunglasses have barely changed in the last 50 years. (That said, the more tech-inclined might want to check out the brand's smart glasses version.) There are a few different frame styles to choose from, but if you're getting these for the trail, consider splurging on polarized lenses. (Bonus: you can even order them with custom prescription lenses if you'd like.)
$163, ray-ban.com
7. SWIFT RL HEADLAMP
Petzl
Sure, maybe this was just supposed to be a day hike; but things don't always go according to schedule in the great outdoors. When the sun starts to set on the mountain, it's only a matter of time before you're blanketed in darkness. The 3.5-ounce Petzl Swift RL Headlamp is equipped with up to an impressive 900 lumens of brightness, and the uber-ergonomic headband keeps everything secure, no matter your pace. The 2,350 mAH lithium ion battery charges via a micro-USB port, and it can last up to 100 hours in low-power mode. It has a water resistance rating of IPX4, too, making this weatherproof wearable pretty much perfect for all-season hikes.
$125, rei.com
8. RIDGE RAIDER BIVI
Rab
Whether your hike includes an overnight stay, or you're simply planning for the unexpected, having the proper protection against the elements is paramount. At just 31.4 ounces and a compact 12.5 x 5.9 inches when packed, this freestanding bivi is an excellent alternative to a bulky tent. It combines a bathtub-style base with an air-permeable upper membrane to provide superior condensation control and best-in-class overnight dryness. Plus, thanks to an overhead loop and micropole at the foot, there's plenty of room inside for all the gear on this list. There's even an integrated mosquito mesh door to keep bugs at bay.
$375, rab.equipment
9. ASCENT PRO 400 DOWN SLEEPING BAG (30F)
Rab
Once you've got that bivi built, you'll need a good sleeping bag that will keep you comfy under the stars all night long—and won't weigh you down during the day. At 34 ounces, this wind- and water-resistant sleeping bag sports a Pertex Quantum Pro outer and 650FP duck down inner that's rated for temperatures as low as 30 degrees Fahrenheit. It's an ideal two-season sleeping bag for springtime excursions, and the perfect partner for any thru-hiker.
$325, rab.equipment
10. SIGNAL MULTI-TOOL
Leatherman
When it comes to having a reliable multi-tool on the trail, you can't do much better than the Leatherman brand, and their Signal Multi-Tool was designed specifically for the great outdoors. This 19-in-1 hiking accessory has everything you'd expect in a multi-tool, plus plenty of useful attachments to help you pitch camp if need be, such as a built-in hammer, saw, and even a ferrocerium rod for getting a fire going. Every tool and knife locks firmly into place when in use, and the built-in carabiner is easy to clip right to the shoulder strap of your backpack.
$130, leatherman.com