Savory Indulgence
Spicy Chicken Tenders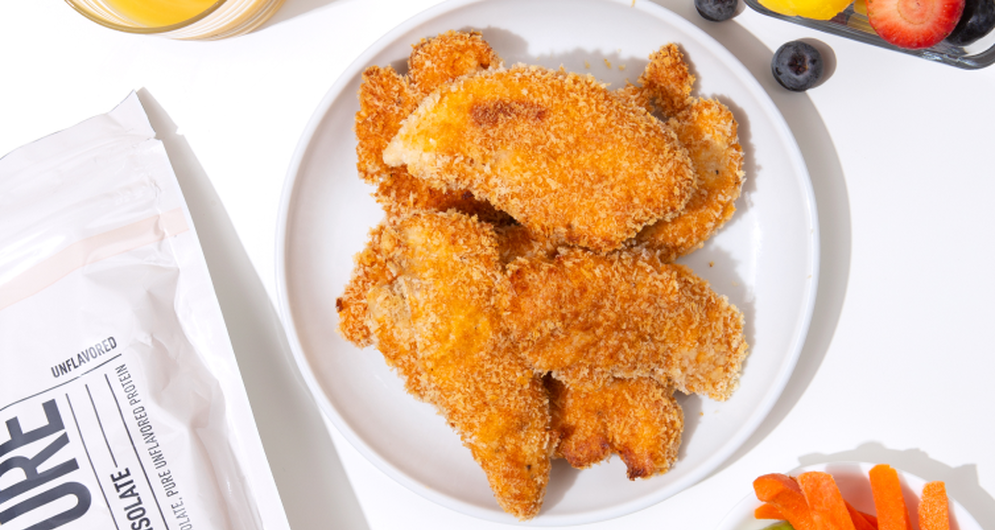 Directions
Start by preheating your oven to 450 degrees, then line two large baking sheets with aluminum foil and give them a spritz of non-stick cooking spray.
In a medium-sized bowl, whisk together protein, kosher salt, garlic powder, corn starch, onion powder, and smoked paprika then set it aside.
In a second medium-sized bowl, whisk together the egg, hot sauce and vegetable oil.
In a third medium-sized bowl, add the panko bread crumbs.
Using one hand, dredge the chicken in the protein mixture, then dip it into the egg mixture. Using your clean hand, dip the chicken into the panko bowl making sure the chicken strips are completely coated, then place the chicken strips on the baking sheets. Repeat with the rest of the chicken.
Bake the chicken strips for 12 minutes, then use tongs to flip them over, and cook for an additional 12 minutes.
Serve hot, with your favorite dipping sauces.
Because culinary technique may vary, the nutritional information provided for this recipe is estimated and should not be construed as a guarantee.