Sweet Tooth
BISCOTTI WITH PISTACHIOS AND CARDAMOM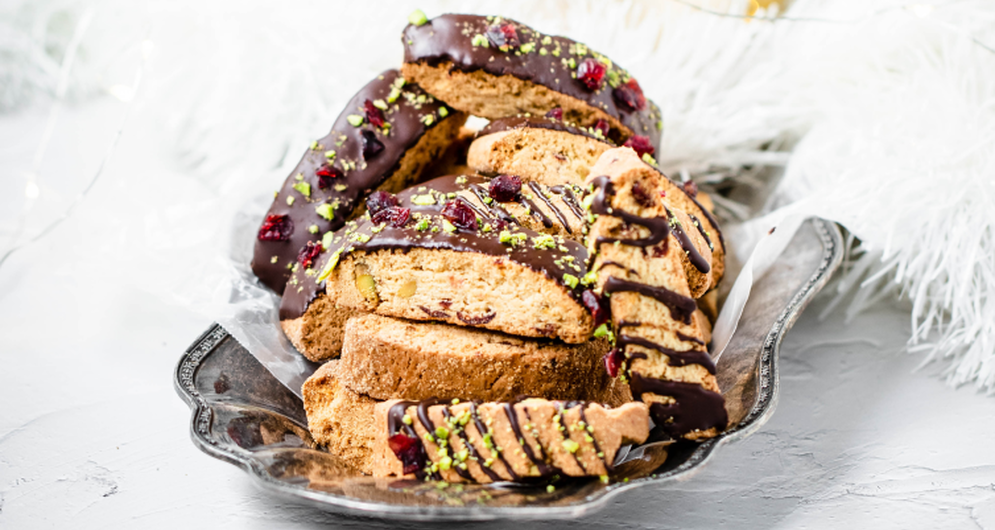 Directions
Preheat oven to 350F. Line a rimmed baking sheet with parchment paper.
In a large bowl, whisk together almond flour, baking powder, xanthan gum, protein powder and cardamom powder.
In another bowl, mix together the egg ,sweetener , butter melted , orange zest and vanilla extract .
Gently add and stir sweetener into the flour mixture. Add the pistachios and chopped dried cranberry . Finish the mixing with your hands.
Divide dough in half. Form two logs on a cookie sheet that has been lined with parchment paper. Dough may be sticky; wet hands with cool water to handle dough more easily.
Bake for 25 minutes in the preheated oven, or until logs are light brown. Remove from oven, and set aside to cool for 10 minutes. Reduce oven heat to 300 degrees F.
Cut logs on diagonal into 3/4 inch thick slices. Lay on sides on parchment covered cookie sheet. Bake approximately 8 to 10 minutes, or until golden on bottom.
Cool on racks, Place chocolate in a heatproof bowl and microwave for 2 minutes. Stir every 15-20 seconds to prevent seizing. Dip each biscotti into chocolate and place on baking sheets or a wire rack. Sprinkle with additional pistachio if preferred. Let dry. Enjoy!
Because culinary technique may vary, the nutritional information provided for this recipe is estimated and should not be construed as a guarantee.