Sweet Tooth
BLUEBERRY BANANA PROTEIN DONUTS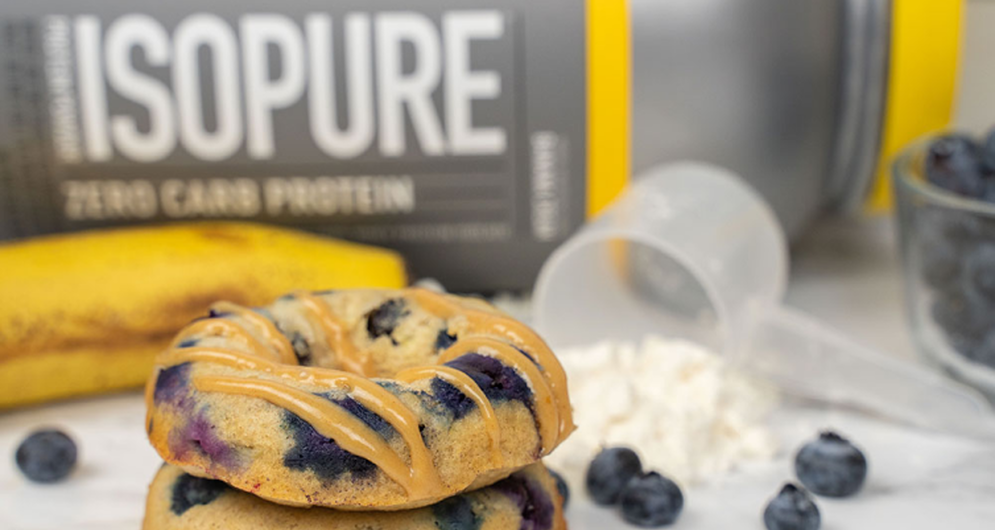 Directions
Preheat oven to 350F. Spray a 6-spot donut pan with nonstick cooking spray.
Add flour, protein powder, baking powder, salt and cinnamon to a large bowl. Whisk until combined.
In a separate bowl, add egg, light butter, mashed banana, granular sweetener and vanilla extract. Whisk until smooth.
Add wet ingredients to dry and gently stir together until a smooth batter forms. Fold in blueberries.
Pour batter into a ziploc or piping bag. Cut the end off and pipe donut batter into each of the prepared spots in the donut pan.
Bake at 350F for 8 minutes. Be careful not to overbake or they will dry out easily. Let completely cool and enjoy!
Notes
*Light butter is 4g of fat per tablespoon. It can be found near the butter. Alternatively, coconut oil or regular butter can be used.
** Any sweetener which measures 1:1 with sugar can be used. I used swerve, which is sugar free and has no glycemic impact. It can be found in the baking aisle.
Because culinary technique may vary, the nutritional information provided for this recipe is estimated and should not be construed as a guarantee.