Sweet Tooth
CRANBERRY COFFEE CAKE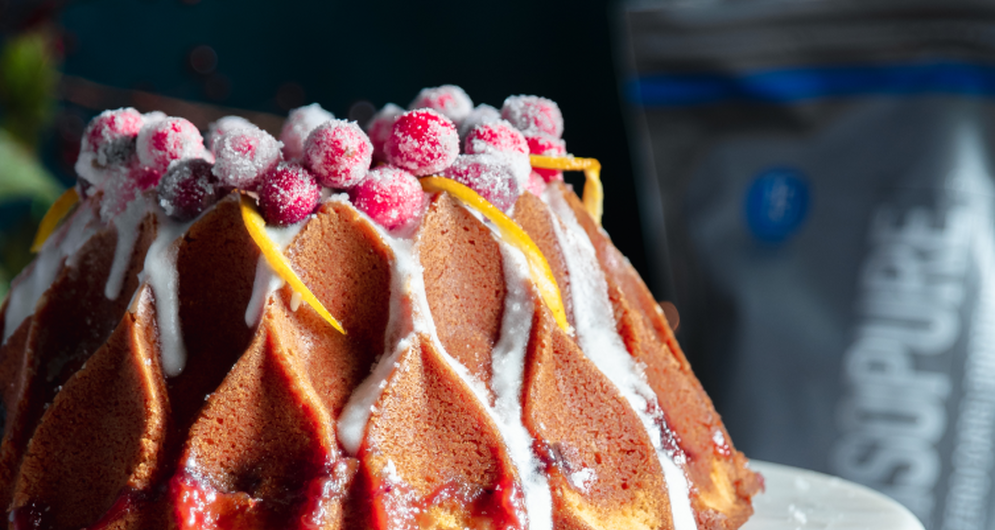 Directions
In a saucepan, combine cranberries, sweetener and water. Cook, uncovered, over medium heat until berries pop, about 8-10 minutes. Add lemon juice. It will thicken further as it cools. Set aside.
Preheat the oven to 350°F (177°C). Grease and line a 9-inch (23-cm) round cake pan with parchment paper or use non-stick Bundt pan and grease it with nonstick spray.
To prepare the cake, mix the almond flour, coconut flour, protein powder, baking powder and salt in a bowl and set it aside.
Beat the butter, brown sugar substitute and granulated erythritol with an electric beater until they are incorporated. Add the eggs, sour cream, orange zest, orange juice and vanilla extract, beating until smooth.
Add the flour and spices mixture previously prepared and stir thoroughly. The cake batter should be thick.
Spoon half the batter into the Bundt pan. In a small bowl combine the cranberry sauce, cinnamon, and chopped nuts. Spoon on top of the batter in the pan. Spoon the remaining batter over the cake.
Pour the batter into the pan. Bake the cake for 50 minutes to 1 hour, or until a skewer inserted into the center comes out clean. Toward the end of the baking time, make the icing, sift powdered sweetener into a medium- sized bowl. Add in your buttermilk and extract and stir until smooth and creamy.
Remove the cake from the oven and place it on a wire rack.
Cool on a wire rack for about 20 minutes before taking the cake out of the mold on a cake rack or tray. Once the cake is on the cake stand let to cool for another 10 minutes or so before pouring the icing overthe surface of the Bundt cake.

Because culinary technique may vary, the nutritional information provided for this recipe is estimated and should not be construed as a guarantee.