Sweet Tooth
KETO PROTEIN CINNAMON ROLL IN A MUG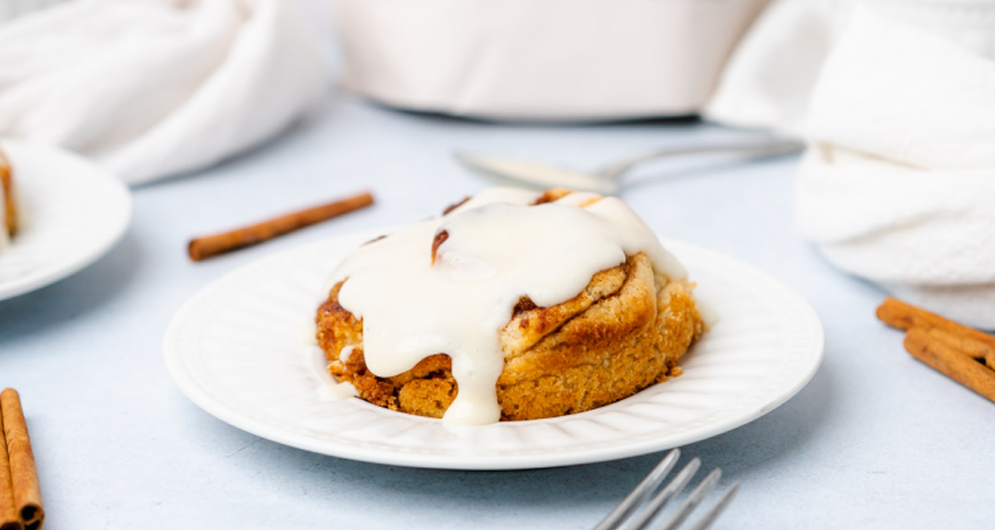 Directions
Start by making the dough. In a medium sized bowl, combine Isopure, almond flour, powdered sweetener, baking powder, kosher salt, and xanthan gum. Whisk to combine. In a separate bowl, warm together butter and cream cheese gently in the microwave, for about 10 seconds. Mix together until well combined and butter is melted. Add in milk of choice and vanilla extract, whisk together. Combine wet ingredients with the dry ingredients using a rubber spatula until a dough forms. If the dough feels a bit dry, add milk 1 tsp at a time. Using oiled hands and dough, roll the dough into a ball shape. Cover with plastic wrap and chill in the fridge for 10 minutes.
Prepare the cream cheese glaze. In a small bowl, gently melt the remaining butter and cream cheese in the microwave, and mix until well combined with a rubber spatula. Slowly stir in milk, vanilla extract, and salt. Add more milk for a thinner cream cheese glaze if desired. Set aside to rest. The glaze will thicken as it sits.
Roll the cinnamon roll. After dough has chilled, roll with oiled hands in a ball shape, then press between two pieces of parchment to form a long rectangle that's roughly 10 inches long and 1 inch thick. Sprinkle it with sweetener and cinnamon, then using the short edge of the parchment paper, roll into a cinnamon roll shape. Place in a well greased ramekin.
Microwave the cinnamon roll. Microwave at 70% power for 1 minute, then at full power, stopping every 15 seconds until cooked through. The top may be slightly damp, but the cinnamon roll should be cooked through. This should take about 1 minute total. Allow to cool for a few minutes, as the ramekin or mug will be hot. Use a knife or rubber spatula to loosen the cinnamon roll from the edges of the ramekin, then flip out onto a plate. Drizzle cream cheese glaze over top. Enjoy immediately, these cinnamon rolls are best enjoyed fresh.
***If you prefer to bake in the oven, place the cinnamon roll in a greased ramekin and bake for 20-25 minutes at 350°F until golden brown. Allow to cool for 5 minutes or so before removing from the ramekin, as the ramekin will be very hot.
*Oil, butter or oil spray used for greasing the ramekin are not included in these nutrition facts.
Because culinary technique may vary, the nutritional information provided for this recipe is estimated and should not be construed as a guarantee.