Sweet Tooth
Almond Flour Tart with Lemon Curd and Berries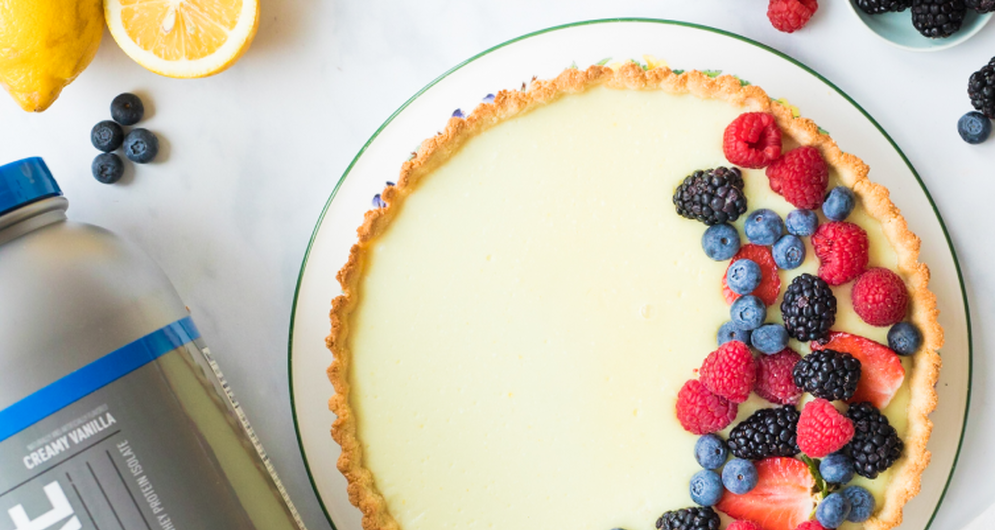 Directions
Preheat oven to 350F/180C.
To make the crust, combine the almond flour, coconut flour, protein powder, powdered stevia and salt in a food processor. Pulse a couple times until the flours have combined. With the motor running, pour in the melted coconut oil and egg. Blend until the dough comes together - it should stick when pressed between two fingers.
Place the dough in a 9inch tart tin and press evenly on the bottom and up the sides. Prick the base a couple times with a fork, then bake in the oven for 13-15 minutes, until lightly golden. Remove from the oven and cool. Remove from the tart tin, place on a large plate or serving tra and set aside.
To make the filling, combine the lemon juice, stevia, corn starch, lemon zest, coconut milk and vanilla in a small saucepan. Whisk until mixed well. Place the saucepan on medium-high heat and cook, whisking constantly, for 5-7 minutes, until the curd is thick. Remove from heat and whisk in the protein powder. Cool the mixture for 10 minutes, then pour into the tart base. Place the tart in the fridge for at least 4 hours to set.
To serve, remove the tart from the fridge and top with with berries.
Because culinary technique may vary, the nutritional information provided for this recipe is estimated and should not be construed as a guarantee.