Sweet Tooth
ISOPURE KETO APPLE AND ZUCCHINI CRISP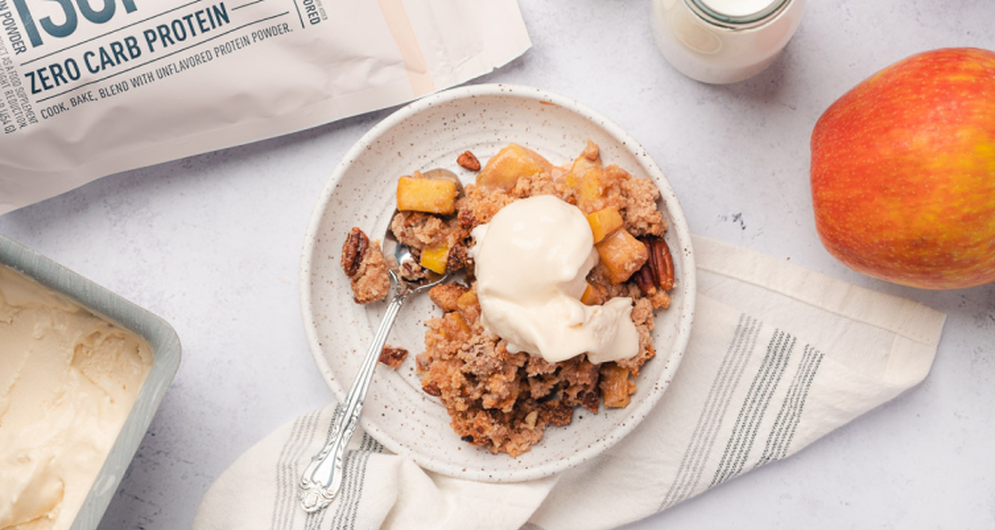 Directions
In a saucepan over medium-low heat, add apples, zucchini, sweetener, cinnamon, lemon juice, and kosher salt. Mix to combine, and reduce heat to a simmer, allow mixture to simmer for 15 minutes to soften.
While mixing the filling constantly, slowly add in the Isopure whey protein powder, mixing so there are no clumps. Continue to simmer for another 10-15 minutes, stirring often. Once the mixture has thickened, remove from the heat, then pour in vanilla extract, apple extract and sprinkle on xanthan gum in small amounts, mixing vigorously to combine and thicken.
Preheat the oven to 350°F. While the apples and zucchini are cooking, make the crisp topping. Combine almond flour, whey protein, pecans, coconut flakes, sweetener, cinnamon, and kosher salt. Add melted butter and stir to combine to make sure everything is incorporated.
In a greased baking dish, add apple and zcc4.In a greased baking dish, add apple and zucchini filling, then top with the crumble topping. Lightly press the topping to the fruit mixture to adhere. Bake for 25-30 minutes, until the top is golden brown and the filling is bubbly. Allow to cool for 10-15 minutes before enjoying.
Because culinary technique may vary, the nutritional information provided for this recipe is estimated and should not be construed as a guarantee.