Sweet Tooth
KETO APPLE CINNAMON PROTEIN MUFFINS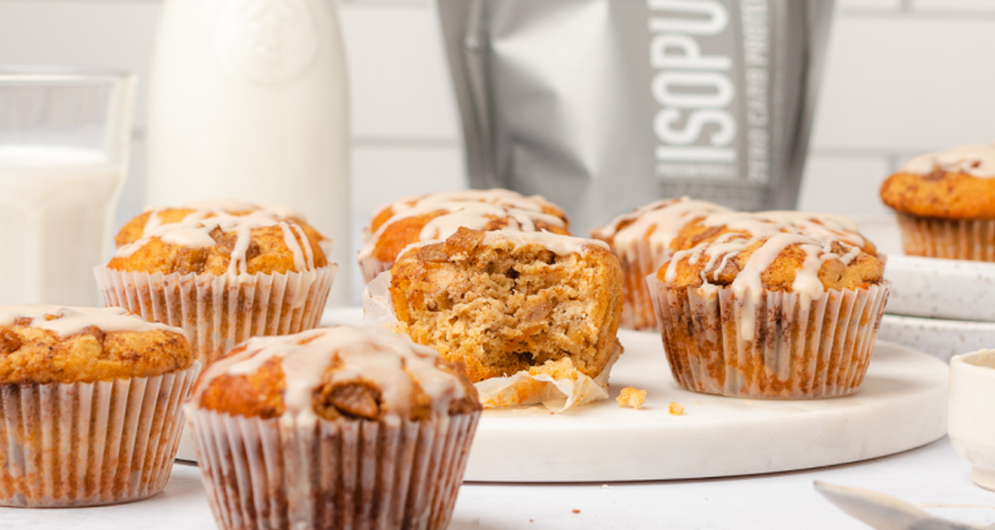 Directions
all buttery mock 'apple' ingredients to a saucepan, and bring to a simmer. After simmering for about 5 minutes, taste and adjust sweetness to taste. Continue to simmer on low for 10 minutes to soften the zucchini. Once done, remove from the pan and set aside to cool.
Preheat the oven to 350°F. Line muffin tins with liners and spray with non-stick spray.
For the muffins, whisk together all dry ingredients in a medium sized bowl, set aside.
In a large bowl, combine eggs and sweetener and beat with a hand mixer on medium speed for about 5 minutes, until well combined. Add in the greek yogurt, apple cider vinegar, vanilla extract and apple extract, Mix until well combined.
Now, sift the dry mixture into the wet, mixing with a hand mixer until well combined. Once fully combined, fold in most of the cooled mock apple filling, reserving some for the top of the muffins if desired. Bake for 26-30 minutes, until a toothpick comes out clean. Allow to cool in the muffin pan for about 10 minutes.
Meanwhile, prepare your glaze. Combine all ingredients in a small bowl, whisking vigorously to combine. Drizzle over top of the muffins. That's it, enjoy!

Because culinary technique may vary, the nutritional information provided for this recipe is estimated and should not be construed as a guarantee.